We invite you for free orthodontic, prosthetic and implantological consultations
ph. 71 720 99 68 ph. 71 781 95 25 cell. 790 42 00 55 cell. 796 373 575 cell. 574 813 349
In our cabinets we do:
Porcelain and Full Ceramic Crowns
Crowns are made for completely covering defective (polished) teeth.
Except for their primary strengthening function, crowns can be used for shaping a tooth, its colour and appearance.
These are perfect solutions in case of broken tooth, root canal, discolored and distorted tooth as well as rebuilt on an implant.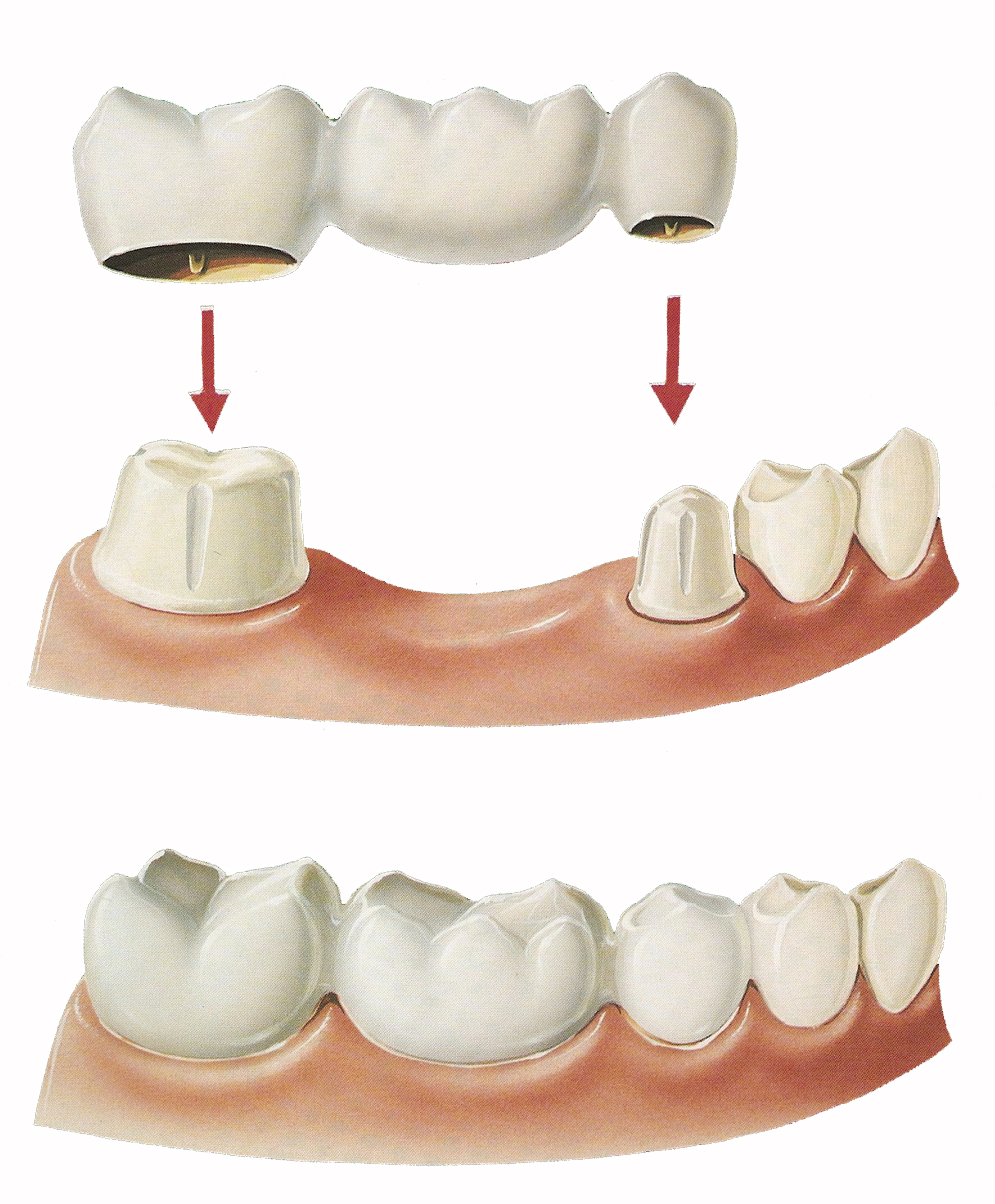 Ceramic and Full Ceramic Bridges
Bridges are made for recreating missing tooth (teeth).
Spaces between the teeth cause rotation harming adjacent and opposite teeth. It may affect a bite, temporo-mandibular joint and a tissue, too. Bridges are mounted on abutment teeth (implants) prepared the same way as for crowns.
Likewise the crowns, bridges may improve the shape, appearance and colour of recreated teeth.
These kind of skeletal dentures use acetal instead of metal. It is a flexible, durable material, and the denture is almost invisible in the mouth. The main benefit is an aesthetics. Both denture and clasps are made in colours that depict human natural hues.
Acrylic dentures rest on a mucous membrane of gingiva. They are recommended in cases of anodontia (toothless),
as they may cause gingiva discomfort, distort the retainers and weaken bones. They might be expensive, too.
As for toothless mouth - to maintain perfect retention we use implants (usually 4 in lower and 6 in upper jaw). Dentures are mounted directly on implants employing various kinds of systems. Therefore the denture is locked in at the most and provides comfortable feeling.
Inlays are used to strengthen the root and rebuild losses before further reconstruction.
Cast core made from metal alloy, gold or fiberglass, is mounted in root canal -( root part of the tooth). The other part of the core ( crown part )- provides a framework for further restorations: crowns, bridges, and composite when fiberglass is used.
Dentures are removable. The core of the skeletal ones is made from metal (containing no nickel - which can be allergic).
It is more durable, and also lessens dimensions of the denture - thus making it more comfortable than the acrylic ones.
They rest on teeth with the use of retainers, therefore the bite strains (mastication) carry forward on teeth, periodontium
and bones. They do not rest on gingiva ( as the akrylic ones) and do not cause bones losses , do not harm gingiva as well as